Billi Sahara 360 Boiling And Ambient Filtered Water With XL Chrome Tap
Boiling and ambient filtered water, instantly, at a fraction of the cost of bottled water.
Energy Saving:
Lowest Energy Consumption - Superior insulation is critical to the sustainable performance of any integrated boiling system. The Billi Sahara utilises Billi's unique high performance technology and insulation materials which operate at a level of efficiency which exceeds 50 times that of a traditional hot water tank. In addition, the Standby Mode will ensure after a set period of non-usage the unit will power down to prevent excess energy consumption.
Unique Eco-Intelligence™ Technology - The Billi Sahara incorporates Eco-Intelligence technology which is a self learning timer allowing the unit to only operate when required. The self learning timer monitors daily usage patterns and even recognises evening and weekend changes in routine to effectively minimise energy consumption.
Stand-by mode - An energy saving stand-by mode can be selected to activate after a preset time of non use. The Billi will power down to conserve power.
No cupboard ventilation - Water-cooled systems do not require cupboard ventilation or a cooling fan.
Under Counter Technology:
Space saving unit size - With a focus on space saving, Billi systems are often less than half the size of comparative products, allowing you to make the most of the available area.
Automatic boiling water calibration - Because boiling point varies by altitude, Billi systems identify the boiling point during the start up mode and sets the temperature accordingly to ensure your boiling water is as close to boiling point as possible.
No Cupboard Ventilation Required - The Billi Quadra water cooled units do not require ventilation grilles or a cooling fan.
Safety and User Functionality:
Safety first - The red lock icon demonstrates when the safety switch is activated. Simply press the switch to release the lock and depress or raise the left hand lever to dispense boiling water. It will revert to safety mode after 8 seconds of non use.
Tap swivel feature - A unique swivel action allows you to swing the dispenser out of the way if you need more sink space.
Advanced Filtration:
Billi have partnered with global organisation Pentair, to create the most technologically advanced filtration for instant boiling and chilled filtered water systems. The new filters use Fibredyne™ technology which is fibrous and matted together, increasing the surface area of the carbon. This means there is greater contact time and improved quality of filtration.
Optional Tap Font:
Install at the sink or on an optional tap font (away from sink) to accommodate larger vessels.
Scale management:
A large area of the UK is affected by limescale in the water supply. In the areas of Hard and Medium, shown on the map below, the Billi appliance warranty is only valid if a scale filter has been fitted. The filter size should be specificed to suit the size of the unit, level of use and the hardness of the water.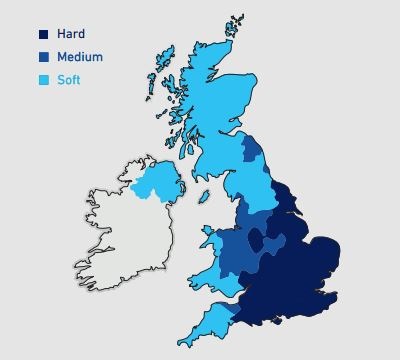 Billi's unique scale management system filters only the water on the way to boiling tank, allowing necessary treatment to occur on the high risk boiling side without affecting the taste of the chilled water.
Billi's choice of filter with its new water filtration and conditioning technology is the world's first filter system to effectively combine hardness reduction, mineral stabilisation and corrosion inhibition by maintaining a controlled low carbonic acid level in the water.
Free Post Installation Commissioning:
When you purchase your Billi Tap From Hitchin Plumbing Supplies, Billi offers a free, on-site, post installation commissioning service to ensure your Billi tap is functioning correctly and set to achieve optimal efficiency.
Warranty:
All components of the Billi units are covered by a 12 month warranty. This does not include filter cartridges or CO2 cylinders which are consumables and therefore not covered by warranty.
About Billi:
Billi is a leading manufacturer and supplier of high quality drinking water dispensers The Billi brand is synonymous with innovation and we provide products of uncompromising quality backed by a world class customer service experience.
As homes and workplaces chose pure filtered water, a safe, attractive alternative to standard appliances was essential. A truly innovative concept, the groundbreaking Billi products were launched to the market in the early 1990s. First to offer the choice of filtered boiling and chilled drinking water from a single tap, the benefits of a neatly concealed under bench drinking water system were instantly recognised and embraced.

Click below to download the Billi product brochure and Sahara 360 technical information